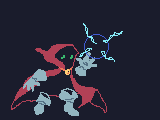 Wilbur: The Wonderful Witty Waif
"Wilbur is a little rascal who, after leaving the abbey where he grew up, learned magic himself, by stealing artifacts, books & scrolls from different savants and wise men".
"The mischievous orphan has amassed quite a nice collection, so he has set his gaze at the Sage's Tower of Knowledge, but perhaps this wasn't such a good plan after all".
This little Prototype is based on Snow Bross, and a little bit on Megaman, and a dash of Ghost & Goblins besides; Who doesn't love Magic & Fantasy?
---------
Controls:
Movement: WASD.
Jump: K.
Attack: L.
Try combination for special movements!
---------
Credits:
Comments
Log in with itch.io to leave a comment.
Nice little short platformer
wobblyfootgamer
Wich problem are you having?